Massachusetts drivers can now use their license photos for as long as 14 years.
EverythingWestport.com
Sunday, December 17, 2017
Massachusetts drivers can use their license photos for as long as 14 years, lengthened from nine, under new rules announced this week by the Registry of Motor Vehicles.
The Massachusetts Registry of Motor Vehicles (RMV) is taking steps to allow more customers the opportunity to renew a driver's license or ID card online by extending the length of time a customer can use a license photo from 9 years to 14 years, which means more customers than ever are eligible for online renewals.
Customers will be eligible to renew their licenses or ID cards online for two consecutive renewal periods. This will result in approximately 30,000 additional renewal transactions eligible to be processed online each month. With thousands of additional customers now eligible to conduct renewals online, the amount of customers who must visit a service center will decrease, which will make in-person transactions more efficient for customers who do need to visit RMV service locations.
<![if !vml]>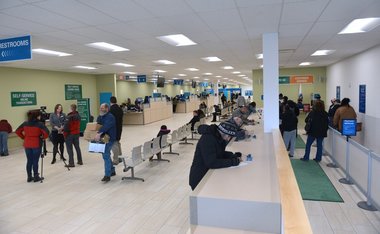 <![endif]>"The Registry is pleased to offer these helpful enhancements to service options that are currently available to our customers," said Registrar of Motor Vehicles Erin Deveney. "We encourage customers to conveniently renew their driver's license or MA ID card online if they are eligible to do so, saving a trip to a service center and perhaps avoiding holiday traffic too."
Licenses and ID cards will need to be renewed in person at RMV service centers or AAA locations (for AAA members) every third renewal period (once every 15 years). Customers should also know that they don't need to wait for the RMV's birthday card reminder to renew. They can go online and renew up to 12 months in advance.
To be eligible for online renewal, a customer's license/ID card photo must be less than 14 years old and must have been taken after the customer's 21st birthday.
The RMV invites license and/or ID card holders to visit Renew Your Driver's License to check their license status and renew online.
Effective March 26, 2018, the RMV is changing the way customers get and renew their driver's licenses and ID cards. On that date, the RMV will begin to issue driver's licenses and ID cards which meet the federal requirement for credentials which are REAL ID compliant.
Massachusetts residents do not need a REAL ID until after October 2020, and will only need a REAL ID for air travel or to enter a U.S. government building. On October 1, 2020, the following credentials will be accepted where REAL ID is required: a valid U.S. or foreign passport, U.S. passport card, military ID, or a driver's license or ID that is REAL ID compliant.
Learn more about REAL ID. Additional information Is available online at the U.S. Department of Homeland Security.
For Sale by Owner! Beautiful Farmland in North Westport.
All proposals are due by Thursday, February 15, 2018.
EverythingWestport.com
Sunday, December 17, 2017
WESTPORT —The Westport Land Conservation Trust (WLCT) is requesting proposals from interested buyers of the Sherman/Rulon Farm located north of 122 Blossom Road in Westport. WLCT is seeking a buyer who will continue and enhance the agricultural operation on the farm. All proposals are due by Thursday, February 15, 2018.
WLCT and the Town of Westport have partnered to protect this farm. The farmland is part of a statewide program that taxes qualifying land at its farmland value – Massachusetts General Law Chapter 61.
The 32-acre Sherman/Rulon Farm is located in north Westport and contains 16 acres of open farm fields, the majority of which are classified as prime farmland and soils of statewide significance by the Natural Resources Conservation Service (NRCS). The property currently has no structures, but does possess a network of fields connected by a well-established laneway.
<![if !vml]>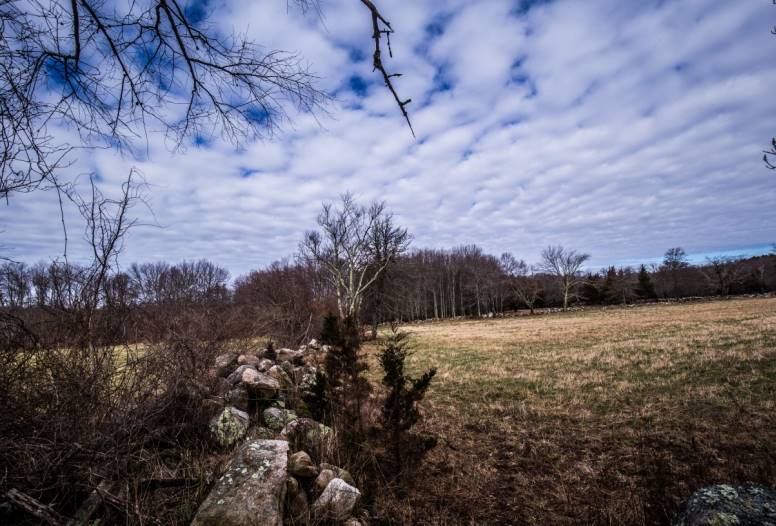 <![endif]>
WLCT and the Town of Westport have partnered to protect this farm. The farmland is part of a statewide program that taxes qualifying land at its farmland value – Massachusetts General Law Chapter 61. This voluntary program allows property owners to enroll in exchange for granting the municipality a right of first refusal to purchase the land if it is proposed to be converted to other uses during a specific time period. This farmland became available through that process and WLCT accepted the Town's assignment of its Right of First Refusal on February 8, 2017.
WLCT purchased the Farm for $400,000 in May 2017. Westport's Agricultural/Open Space Preservation Trust Fund Council committed $150,000 towards the protection of the property.  Now, WLCT and the Town are working to protect the farm with a permanent agricultural preservation restriction (APR). Their goal is to sell the farm to a private buyer committed to agriculture.
The APR, covering the entire property, will protect resources such as prime farmland soils and wetlands, and it will require that the property be farmed while allowing for the construction of farm buildings with approval. It will also allow for the construction of a single family house in a designated area near Blossom Road. 
WLCT purchased the Farm for $400,000 in May 2017. Westport's Agricultural/Open Space Preservation Trust Fund Council committed $150,000 towards the protection of the property.
All future owners must adhere to the APR. WLCT and the Town of Westport's Conservation Commission will hold the restriction on the entire farm. WLCT and the Town will be responsible for the annual monitoring and enforcement of the restriction. Bidders are asked to submit proposals with a price range between $225,000 and $285,000.
The complete Request for Proposals can be found at: http://www.westportlandtrust.org/shermanfarm. This website will list of all important dates, details about the restriction, deadlines, and updates throughout the proposal process.
Guest View By Dianne M. Baron
EverythingWestport.com
Sunday, December 17, 2017
Westport Community Schools are at a crossroads, together with the entire town that we all love. As we work together to take advantage of the nearly $40 million in state funding to invest in a new middle-high school, you may have questions about why this school is needed now. I've answered some of the questions that have come up.
The town has a one-time opportunity to receive nearly $40 million from the Commonwealth of Massachusetts to build a new middle-high school. It will replace the contaminated former middle school and address structural issues in the high school that will cost the town substantial money in the near future. Only 10 percent of communities that apply for this funding receive it. The town representatives, from the Westport School Building Committee (WSBC), to the Selectmen and the School Committee, have approved a design to go forward to the Massachusetts School Building Authority.
So why is this the right time for this project?
Cost for restoring the existing middle school: The Massachusetts School Building Authority (MSBA) required us to assess this in a feasibility study. Bringing the existing contaminated building into compliance is estimated to cost at least $52 million. Bringing the building into compliance with these standards and restoring it as a 5th through 8th grade middle school with the educational program approved by the MSBA is estimated to cost more than $64 million. Just the cost to rid the school of the contaminating PCBs is estimated to cost more than $20 million. It is unclear whether it is actually possible to rid the school of all of the PCBS to the level required by the EPA because they have been absorbed into all crevices of the building.
<![if !vml]>

<![endif]>
Data on the school population, past and future: The MSBA, as part of its process for reviewing and approving proposals for funding, prepared an analysis of Westport population trends, beginning in 1993 and ending in 2024. This analysis examined past population figures, past enrollment by grade and estimated future trends. It was on that basis that the MSBA proposed, by letter of June 8, 2015, that a 5th through 12th grade middle/high school building designed to replace the vacated middle school should be built to accommodate 860 students.
This sort of analysis is performed by the MSBA for all communities seeking funding by the state to build a new school. They have statisticians who take into consideration the many factors impacting student population in communities, looking at births, females of child-bearing age, grade to grade survival ratios, base enrollment projections, building permits, housing sales, planned building projects, and many other determinants to arrive at a number of students and building size that they will fund. They adjust for construction (students who are attending school elsewhere who might return to a newly built school), new planned housing developments, and for enrollment growth over and beyond the forecast period. It is a very thorough and analytic process. In our case, they looked at a 10-year average enrollment, a 5-year average enrollment, a 2-year average enrollment, and 5 and 10 year projections. The 10-year projection was for 555 grade K-4 students and 795 grade 5-12 students. The MSBA increased this number by 3.3 percent (35 students for grades 5-12) to bring the total to 860 students to adjust to fluctuations in the out-of-district enrollment patterns. The concern was that we have had many students leaving the school system after grade 6 or 8 and we will need to accommodate those who now stay because of a great new school with first-class facilities.
<![if !vml]>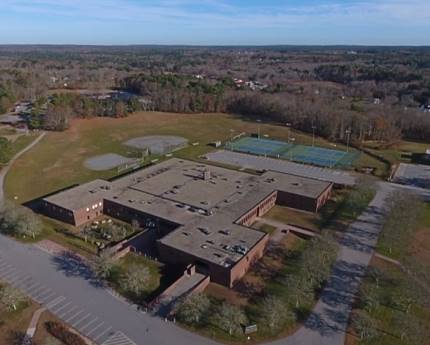 <![endif]>
Above: Aerial view of the empty, PCB-plagued Middle School, the site of the proposed new Jr/Sr High School on Old County Road..
Photo | EverythingWestport.com © 2017
Population data past and present for the town:  According to the UMass Donahue Institute, Westport had a 1.8 percent increase in population from 2010 to 2015. They state, "Projections by the UMass Donahue Institute anticipate a population growth in Westport between 2010 to 2035 - the population is expected to increase by roughly 1,500 people (9.7 percent). However, from 2020 to 2035, population growth is projected to slow and level out, with projected growth of approximately 1.4 percent in this period." They further state, "Compared with other nearby Massachusetts and Rhode Island communities, Westport is among the three communities anticipated to experience the highest population growth in this timeframe with Dartmouth projected to grow the most at about 21 percent."
Why now, and why a combined middle-high school: The final WSBC estimate for the town share of the project is now $58.9 million, with a total estimated project cost of $97.5 million. The WSBC proposal to combine the high school with the middle school frees up the existing high school building, a town asset that was recently appraised for sale in the amount $6.4 million. These funds can be used to offset the bond. Under the proposal, the MSBA will also fund half the estimated cost of $5 million for demolishing and abating the contaminated middle school. We estimate that if we had chosen to build just a new grade 5-8 middle school now and then come back in 10 years to replace a grade 9-12 high school, the town would pay an additional $96 million in costs (operating costs, maintenance costs, building and borrowing costs without MSBA funding) to achieve the same result we can have now for a town share of $58.5M. This is a much costlier version of what happened when the town did not replace the fire and police stations at the same time.
The proposed 5-12 school will house 60 percent of our student population under one roof, house 80 percent of our students on one campus, and improve the campus site with a state of the art de-nitrification septic system and new well that will each tie in the Elementary School and Library. It will have new regulation size athletic fields, an elevated indoor community walking track, new Diane B. Snyder memorial tennis courts and relocated memorial garden, new efficient plumbing fixtures for the Westport Elementary School, fire hydrants, a full sprinkler system, and improvements to site traffic, access, egress, and parking.
"The WHS was built in 1951, with an addition in 1972, and will need to be replaced in the near future at ever increasing building and interest rate costs, and at a time when the MSBA may very well not be willing, as it is now, to pay near 50% of the eligible costs of replacement. We are estimating that each month delay in construction will cost $200,000 to the cost due to rising building costs." - Diane Baron
On behalf of the WSBC I thank all the residents who have raised these questions, and encourage everyone to attend the public forum schedule for December 6. We will be holding a public forum at the Westport Jr/SrHigh School on Wednesday, Dec. 6 at 6 p.m. in the Media Center. The WSBC and its members would be happy to appear at any time before any community group to discuss the building project further. There are also political action groups, Yes! Westport, and Westport—SOS that have formed for the purpose of sharpening the issues through public debate and can be contacted to appear before such groups.
This is our opportunity, Westport. This will not only benefit our students, but it will enhance our community and make it an even more desirable place to live. Please join us in moving into the future.
Dianne M. Baron is chair of the Westport School Building Committee.
- - - - - End - - - - -
© 2017 Community Events of Westport    All rights reserved.
EverythingWestport.com