•   <![if !vml]>

<![endif]>  is sponsored by www.aldenhill.com   •
Stone Walls of Westport – Updated May 28, 2008
<![if !vml]>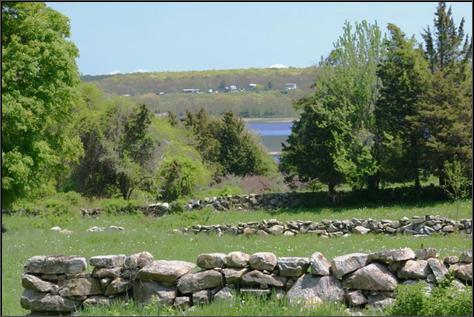 <![endif]>Once a farmer's nuisance, mostly igneous fieldstones left over from the last ice age's receding glaciers are now being used to produce some of the finest dry stone walls in New England. In the early years, Westport farmers picked stones from their farm lands and created long piles of rubble into crude field barriers, fences, and farm animal enclosures. This practice has evolved over time into more formal property boundaries, and has become a signature of rural Westport.
The art of incorporating a fieldstone wall into a property's landscaping design is now popularly known as "hardscapes". Early English settlers arriving in Massachusetts in the 1600's brought their homeland's wall building techniques with them. Arguably, the best talent in dry fieldstone wall building comes from Great Britain. Later, wealthy American farmers and industrialists rebuilt these early piles of rubble into more handsome structures, becoming monuments in their own right. In the present day, the art of wall building has changed into a highly evolved discipline, with skilled craftsmen producing free-standing works of art. Stone Wall Information

Encountering a 300 year-old abandoned fieldstone wall enveloped by secondary forest can evoke nostalgia of times gone by. Our early cultural heritage is on display for all those to see. This photo essay is an attempt to illustrate the beauty of today's "hardscapes", as well as show some of the early examples of 18th and 19th century fieldstone walls still visible in modern Westport.
Come and view photos of these magnificent reminders of New England's agricultural past.  |  Dial-Up Speed  |  Broadband/DSL  |
Read about 1899 Westport to understand its origins.
<![if !vml]>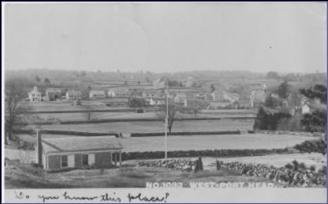 <![endif]>Westport circa 1900 (left) is literally littered with stone walls that define fields and boundaries, and provide a handy spot to dump unwanted field stones. The Wolf Pit School circa 1833 can be seen in the lower left of the photo. Click on the photo to enlarge.
Today, farming remains the chief use of Westport open land, with cow corn, hay, specialty produce, and vineyards being the crops of choice. In 2007, a young Westport man (see story below) ventured into farming for the first time by purchasing and farming a 32 acre piece of APR land. He rock picks his fields just like early Westporters, except his backhoe makes the job a little easier. Interestingly, the white granite rocks and small boulders gathered from his field have more value in building "hardscape" stone walls and clambake fires than merely being thrown into a rubble pile!
Resurrection of Westport Farming? Read about it >

<![if !vml]><![endif]>

The Trustees of Reservations and the Westport Land Conservation Trust have announced the sale of a prime agricultural parcel to a local young man who will go from his high school graduation straight onto a tractor.

Andrew Orr, a senior at Westport High School, has always dreamed of making farming a career. Now, with his purchase of 13 acres of the Wood farm parcel at the corner of Adamsville and Sodom Roads, his dreams will soon become a reality.

For the past three years, Mr. Orr has been grooming his career working on the Wood farm and helping to run its popular farmstand. Jim Wood, whose family has farmed the land since 1900, is retiring. Mr. Wood will, however, continue to provide Mr. Orr with guidance, helping him pour over seed catalogues and plan for the upcoming growing season.
      <![if !vml]><![endif]>

From early subsistence crop growing, Westport moved into commercial potato farming, producing the Macomber Turnip unique to Westport. Our town gradually developed into one of the largest dairy communities in New England. In 1873 Westport had more sheep (518) than any other town in the county. Field use with the building of boundary walls and animal enclosures gradually took over most of the available land in Westport.  The building of early dry stone walls probably followed European construction techniques.

Today's stone walls have evolved into decorative "hardscapes", certainly unique to New England. These enduring structures have been renovated, restored, and newly built, and continue to be the fence of choice in Westport. One thing is sure; they still make great fences, and strong fences make good neighbors!
One will find that some of our early 20th century farms have been abandoned and overgrown, and some have been developed into sprawling residential neighborhoods. However, with the help of community preservation funds, agricultural preservation restrictions, and land trust protection, some of Westport's early character is being preserved - from Old Bedford Road, to Old Pine Hill Road, to picturesque Old Harbor Road. Part of our rural character is the dry stone walls that interlace our entire community. The preservation of our open spaces is germane to the perpetuation of these fieldstone and granite walls, which seem to pepper every field. This photo essay captures the essence of these rock monuments to an earlier time.
<![if !vml]><![endif]> <![if !vml]><![endif]> <![if !vml]><![endif]>

Stone Wall Building Volunteer Day at the Westport Town Farm. Over 20 volunteers learned the art and science of restoring stone walls, courtesy of local stone wall builder Chris Tracey. Chris was everywhere, giving instruction with hands-on tutorials, overseeing, educating, and giving much of himself to preserve the old rock relics we call stone walls.  The Trustees found many volunteers to help preserve these magnificent reminders of New England's agricultural past. Saturday, April 26, 2008

Read the full story now. View the photo album now  20 photos:

|   Dial-up speed   |   Broadband/DSL speed   |
                          Click on each of the logos below to learn more about our community's preservation efforts.
<![if !vml]><![endif]>

      

 

 

 

<![if !vml]><![endif]>

<![if !vml]><![endif]>

<![if !vml]><![endif]> <![if !vml]><![endif]> <![if !vml]><![endif]>

<![if !vml]><![endif]> <![if !vml]><![endif]> <![if !vml]><![endif]>

<![if !vml]><![endif]> <![if !vml]><![endif]> <![if !vml]><![endif]>

<![if !vml]><![endif]>

<![if !vml]><![endif]>

<![if !vml]><![endif]>
                                                                  <![if !vml]>
<![endif]>
Copyright © 2004-2008 Community Events of Westport. All rights reserved. Photographs and text are protected by Federal Copyright. Reproduction of any kind without written permission is strictly prohibited.