Farm Stands of Westport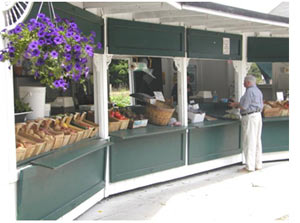 If you're looking for a convenient way to pick up the bounty of fresh, Westport farm products, then you will enjoy this Farm Stands of Westport photo essay. Find locally grown sweet corn, apples, peaches, squash, pumpkins, tomatoes, beans, herbs, blueberries, strawberries, green peppers, and succulent melons. It's enough to make your mouth water! You will also discover coastal fruits and vegetables indigenous to Westport like beach plums, wine berries, and our very own Macomber turnip.

Farm stands from the dawn of time have been a successful way for farmers to acquire scarce cash to purchase those items not produced by their land. Today, these commercial outlets earn money for both small backyard garden owners to the large commercial farmers alike, while providing fresh, affordable, nutritious food to lucky Westport residents and visitors.

© JWA Productions. All rights reserved. Photographs and text are protected by Federal Copyright. Reproduction of any kind without written permission is strictly prohibited.