Announcing the Grand Opening of Soothing Sensations Wellness Center.
Will host open house on Saturday, November 23rd from 12 to 4 p.m. 
Friday, November 08, 2013
<![if !vml]>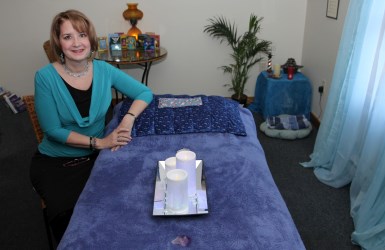 <![endif]>
Westport welcomes the opening of Soothing Sensations Reiki. 
Announcing the Grand Opening of Soothing Sensations Wellness Center.
Cheryl Girard, Reiki Master/Teacher, and Certified Aromatherapist welcomes you to her new location at 1180 State Road, Westport next door to Beautiful Hair Designs.
Experience inner balance, healing, and spiritual cleansing with a Reiki session from one of the area's most experienced Reiki healing professionals. See what people are raving about as healing Reiki energy carries you into a state of deep relaxation where stress and pain can melt away and your vital energy is refreshed and replenished.
Besides Reiki, Soothing Sensations also offers Integrated Energy Therapy, Crystal Reiki, Canine Reiki, Chakra Balancing, Guided Imagery, Progressive Relaxation, Reflexology, Tarot and Angel Card Readings. The Center also makes all of its own Aromatherapy Blends, Lotions, Powders, Sugar Scrubs and Soaps. Browse the collection of crystals, jewelry and their own line of aromatherapy items.
Lady Airmid will be providing Tarot Card Readings every Monday from 3 to 6 pm. There will be monthly Reiki Shares and Red Tent Gatherings led by Cheryl. Linda Medeiros will be providing Reflexology every Friday and Numerology Services the Fourth Sunday of every month. Karmle L. Conrad, (The Cape Cod Psychic), will be giving Psychic Readings on the second Sunday of every month. Throughout the year, there will be classes and workshops on various subjects including; Reiki I, II, Reiki Master, IET, Aromatherapy, Introduction to Angels, Angel Meditations, Crystal Reiki and more.
Store hours will be: Sunday, Tuesday, Wednesday, Friday 11 a.m. – 6 p.m., Monday 12 – 8 p.m. Walk-ins are welcome, but it is best to call and make an appointment.
Look for Soothing Sensations Reiki's open house on Saturday, November 23 from 12 to 4 p.m. There will be free mini 5 minute psychic readings with Karmle and free mini Reiki Sessions with Cheryl or Gerri. Tarot Readings with have a small charge. Stop by and start your Holiday Shopping early!!!
For more information, please call Cheryl at 774.201.0012 or email: soothingsensationsreiki@yahoo.com. Visit their website. Or find them on Facebook.
New Family Medicine Center in Westport.
Tuesday, October 23, 2012
<![if !vml]>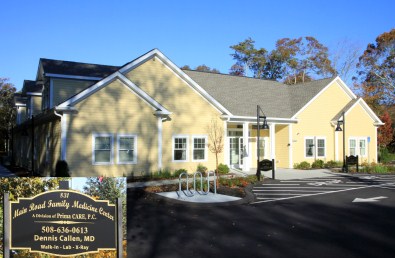 <![endif]>
Dr. Dennis Callen announced the opening of the Main Road Family Medicine Center, a division of Prima-CARE, located at 831 Main Road, Westport.
Hours are Monday through Friday from 8:30 a.m. to 4:30 p.m.
They are offering full-time walk-in care with on-site X-ray service and laboratory services.
"We're providing full-time, walk-in care to the general public by skilled nurse practitioner, Kathleen Smith," Dr. Callen said. "Full-time, onsite X-ray service will be provided by Prima-CARE, P.C., and is also available to the general public."
Their onsite, full-time laboratory services will also be provided by Prima-CARE, P.C., and is available to all Prima-CARE patients.
To schedule an appointment with Dr. Dennis Callen or Ana Araujo, NP please call 508.636.0613.
New farmstand in Westport.
Saturday, July 28, 2012
<![if !vml]>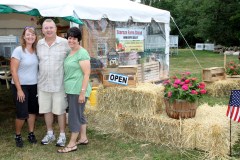 <![endif]>As you're driving down Main Road this weekend, be sure to drop in on Westport's newest farm stand – Starsza Farm Stand on 573 Main Road.
Inset: from the left – Debra Szaro, Jay Szaro, and Debra Szaro LaChace.
Operating on land that's been in the family since 1911, Jay Szaro and sister Debra put several acres to the plow this year, and are offering produce, floras and native corn in a picturesque farm stand setting of hay bales and flowers.
"We have tomatoes (575 plants!), zucchini, squash, cucumbers, peppers, eggplant, beets, native sweet corn, and native fruits," according to Debra Szaro LaChase.
The owners will be cultivating more land for blueberries and raspberries if all goes well this summer.
"The land has been in the family since 1911, and has survived WWI, the Great Depression and WWII", Jay Szaro said.
"I never thought I'd be in farming, but well, here we are," he said.
The Szaro's joins a growing community of family-run farms in Westport, adding to the town's rich agricultural heritage that has been lost in many other local communities.
The farm stand will be open 7 days a week from 9 a.m. to 6 p.m. Stop by and wish the new farmers luck and prosperity. Call 508.642.7329 for more information.
"Ten Cousins brick oven pizzeria is open for business,"
Thursday, June 7, 2012
<![if !vml]>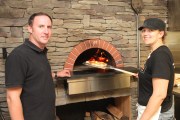 <![endif]>"Ten Cousins brick oven pizzeria is open for business," reports Sean Lafrance.
Inset: restaurant manager Sean Lafrance and Chef Manager Genevieve Bradford pop a pizza into the waiting brick oven on opening day.
Hours for June are 3:00 to 8:00 p.m. every day, except Tuesday when they are closed.
Almost all items on the menu are available, including those fabulous chicken wings, and they have a full staff of server and restaurant employees to make your visit a memorable one.
This latest addition, and it took some time getting here, to the Lafrance Hospitality stable is a winner; atmosphere, food, and a family operation that knows how to cater to customers.
Westport's newest restaurant will feature, among other classic food items, the best chicken wings on the planet.
Look for a great menu, full table seating and takeout, liquor license, and a thoroughly modernized and comfortably chic interior. Stop in and say hello to Sean and Eric and wish the Lafrance family well.
Click here to read about the long term planning for Ten Cousins.
Grums: Family Restaurant With Deep Roots in Westport MA.
Sunday, July 14, 2012
By Paul Tamburello, special to EverythingWestport.com
<![if !vml]>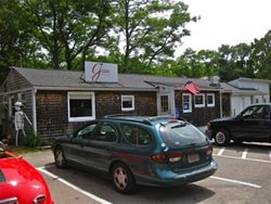 <![endif]>It's no wonder that Grums Family Restaurant has a homey feel to it. Most of the family works here. Named after the grand matriarch of Kim Jagmin's family, three generations are here during my visit for lunch. So are a local cop, a farmer, several retirees, and a family of three. <![if !vml]>

<![endif]>
On today's list of specials (there's a hand printed list every day) – my choice is chowder and cakes. The clam chowder is New England style in a light milky broth, loaded with plenty of cubed potatoes and chunks of clams from local clam beds. The three deep fried golden clam cakes are breaded and filled with enough bits of clam to give authority to the trio.
Bay Coast Bank celebrates opening of Westport Branch with ribbon cutting ceremony.
Thursday, June 28, 2012
<![if !vml]>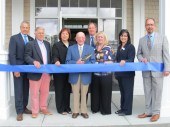 <![endif]><![if !vml]>

<![endif]>BayCoast Bank, formerly Citizens-Union Savings Bank, this week officially celebrated the opening of its latest branch, at 787 Main Road, Westport, with a ribbon-cutting attended by bank officials, as well as representatives of the Town of Westport Board of Selectmen and the Massachusetts legislature.
The brand new branch was built by BayCoast Bank and is located in the Central Village area of Westport.
BayCoast Bank Executive Vice President Carl Taber, in welcoming the guests at the ribbon cutting, talked about how delighted everyone is to have a location in Westport and how much the bank looks forward to being a part of the community.
State Representative Paul Schmid addressed the group, saying how pleased everyone is to have BayCoast Bank as a Westport neighbor. His sentiments were echoed by Karen Almeida from the office of State Senator Michael Rodrigues, who presented a citation from the Massachusetts Senate congratulating the bank on its new location. Other local officials included Selectman Chairman Richard Spirlet and Selectman Antone Vieira.
Art Stable Gallery open for Memorial Day weekend.
Sunday, May 27, 2012
<![if !vml]>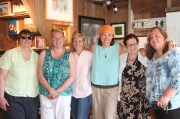 <![endif]>This "stable" of fine looking artisans <![if !vml]>

<![endif]>has their paintings and photographs on display at the new Art Stable Gallery, located next to Partners Village Store and Kitchen, 865 Main Road, Westport.
The antique wooden building replete with horse stalls is surrounded by the picturesque gardens and patios of Partners, and is an ideal setting for the fresh and vibrant exhibition by eight local area artists.
The modern and traditional interpretations of land, sea, and life feature painting, drawing, photography, and sculpture done in oil, watercolor, acrylic, monotype, mixed, and metal mediums.
The Gallery is now open weekends 11 a.m. to 3 p.m., and will run throughout the fall.  Visit their website.
Click here to take a virtual tour of the exhibition and sale!
Beauty Medical Spa opens in Westport.
Thursday, September 22, 2011
Ageless Beauty Medical Spa, LLC, 782 A Main Road, (located in back of Marguerites Restaurant)  at the Village Commons Plaza, offers a complete menu of specialized rejuvenation and skin care services and treatments that should appeal to men and women of all ages.
<![if !vml]>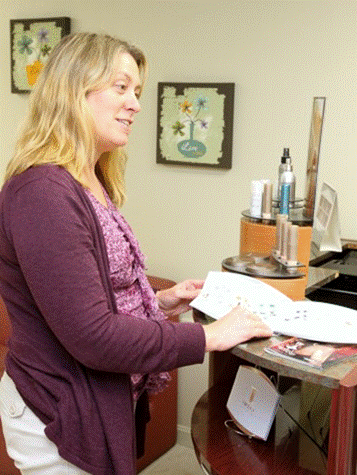 <![endif]>
Owner Dawn Trudeau, R.N., BSN (pictured above) and the business' Medical Director Dr. Joseph Russo M.D., F.A.C.S. offer Laser Skin Rejuvenation Service consultations including: Coolglide, Laser Genesis, and Laser Titan.
Skin Care services include: Botox, Juvederm, Signature Lift, Acne Lift, Wrinkle Lift and Lightening Peel.
Skin care products include; Image, Colorescience Pro (endorsed by the Skin Cancer Foundation,) and Allergans (Botox, Juvederm, and Latisse.)
And for the Body, Mind and Spirit, they offer Energy Transformation, Foot Detoxification, Hot Rocks and Reiki, and SVA HA Yoga,
They are currently offering special introductory prices for a limited time only.
Want to learn more about skin care and products approved through the Skin Cancer Foundation and Care for Skin?
Ageless Beauty Medical Spa will be hosting a FREE introductory event with vendors on Tuesday, September. 27th from 5 - 8 p.m.. All are welcome. They will be giving demonstrations, and there will be refreshments and a free raffle.
For more information call them at 774-264-9600.
Ellie's, Westport's venerable long-time eatery, is now closed and up for sale! - Friday, December 10, 2010
<![if !vml]>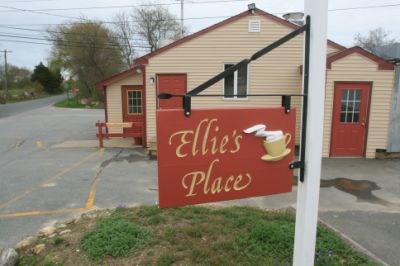 <![endif]>
Ellie's Restaurant closes, again! This once popular, august restaurant has struggled to find its mojo after Victor and Deanna Vieira, who ran Ellie's for seven years, didn't renew their lease.  Frank Formisano of Taunton gave it his best shot for a year, but pulled the plug last month. The property has been listed for sale.
In 2009 Frank V. Formisano of Taunton, Massachusetts leased Ellie's Place, and reopened the longtime Westport restaurant featuring a seafood and Italian menu.
Ellie's had closed December 2008 when the chef/manager left for another opportunity in the food service business. Victor and Deanna Vieira ran Ellie's for about seven years until their lease expired at the end of December. The lease was not renewed.
Owner Joan Casey Amaral had intended to sell Ellie's, the Main Road restaurant that has been in her family since 1999. She instead decided to lease it to Formisano.
Peg and Kerm Dessert of Westport were long-time owners prior to the restaurant's sale in 1999 to Paul and Joan Amaral.
The Desserts had operated Ellie's for 20 years, taking over from the late Ellie Taylor who founded the restaurant in 1977 and ran it for about three years.
Formisano, a former manager of Quito's Restaurant and Seafood Marketplace on Thames Street in Bristol, initially opened Ellie's seven days a week for breakfast, lunch and dinner.
Ellie's Place had recently been granted a full liquor license by the town.
Prior to leasing to Formisano, the Amaral family had planned to take over and operate the 60-seat family-style restaurant. Some minor modifications were made to the interior, but essentially the building had remained the same.
Following the way of VHS, Westport's only full video rental outlet closes its doors. – October 25, 2009
Is this the end of mom and pop video stores? Sue Ubiera thinks so as she pulls the plug on Village Video.
But she's not alone. Blockbuster's Dartmouth store is now closed and liquidating their inventory. And recent news from Netflix and Hollywood's studios has video store retailers scrambling.
Click here to read more about the industry's turmoil and the demise of Westport's last rental outlet.
<![if !vml]>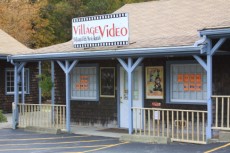 <![endif]>
Rooms with a view! – Posted Thursday, September 03, 2009
Lafrance Hospitality moves forward with New Bedford Marriott - Inn to be located directly across from the historic Bourne Counting House at Merrill's Wharf.
<![if !vml]>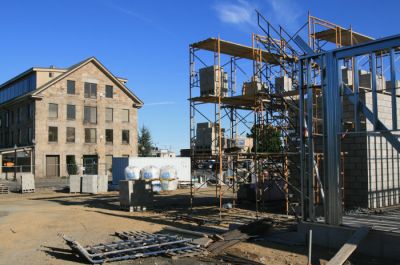 <![endif]>
The South Eastern Economic Development (SEED) Corp. recently approved a Small Business Administration Loan to enable Westport-based Lafrance Hospitality to construct a five-story, 106-room Marriott Fairfield Inn & Suites in New Bedford.
The loan was arranged through Bristol County Savings Bank.
"I feel this hotel is a statement to our vision for New Bedford and exactly the kind of catalyst for continued growth or the tourist component of this great seaport community," said Richard Lafrance, president of Lafrance Hospitality. "The Marriott affiliation is a wonderful complement to our other area properties and will open up other avenues for growth for Lafrance Hospitality. I am confident that the community will provide strong support for this project."
<![if !vml]>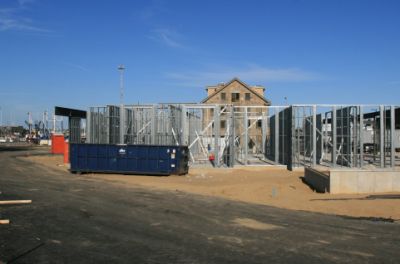 <![endif]>
The Marriott Fairfield Inn & Suites will be located at 185 MacArthur Boulevard (16 Front Street) on a 1.6 acre parcel in the downtown waterfront. The hotel will be the cities only contemporary, first-class, commercial hotel and will include 78 standard rooms, 28 suites, indoor pool, and a conference and business center. The grand opening will take place on June 1, 2010.
The hotel will connect to a historic, granite whale oil refinery building that will be preserved and converted into a conference center that will accommodate 150 people. The former Baker-Robinson Oil Works building will undergo exterior renovations to coincide with the hotel's opening, and interior renovations will likely begin next fall.
The project's official groundbreaking was held August, 2009.
"In this tough economic environment, Bristol County Savings Bank, in conjunction with SEED was pleased to offer Lafrance Hospitality financing for construction of their newest hotel. This hotel will be a statement to the progress the City of New Bedford has made to attract business travelers and tourists," said Len Sullivan, executive vice president and senior loan officer for Bristol County Savings Bank.
<![if !vml]>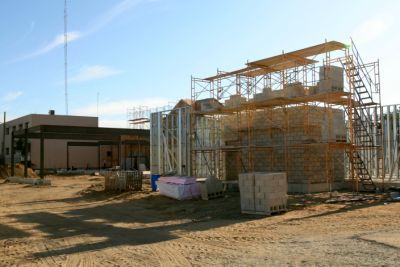 <![endif]>
Bufftree Building Company project manager Anthony DiGiantommaso noted thet the Fairfield Inn & Suites by Marriott will be the first downtown hotel for New Bedford in 40 years.
Westport Market Place puts on the ritz!  - Posted July 28, 2009
<![if !vml]>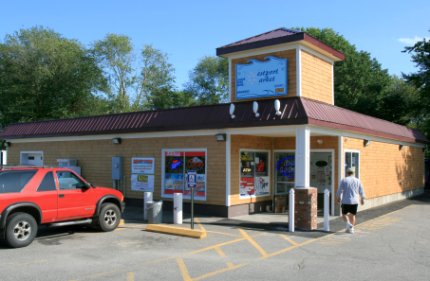 <![endif]>
Westport Market's owner, Rabih Salibi, took over the long-time Route 177 liquor and variety store two years ago last April, and has really spruced up the business since, both inside and out. "The addition of new coolers has allowed us to really open up the place."
<![if !vml]>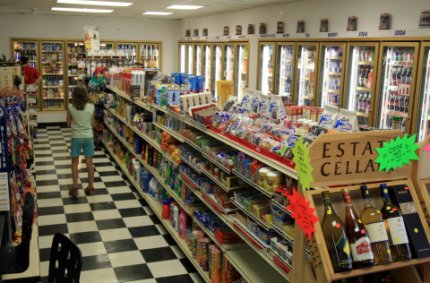 <![endif]>
The freshened-up exterior promotes a friendly and "we appreciate your business" shopping experience. Recently, Mr. Salibi offered his extra cooler space for the storage of weekend-picked produce from the Town Farm's new community garden prior to it being delivered to the Westport Senior Center on Monday mornings. Contact them at (508) 636-5252.
- - - - End - - - -
Wednesday, May 23, 2012
Grays Grist Mill is one the oldest, continuously-run grist mills in America, grinding its corn into nationally-known, stone ground Rhode <![if !vml]>

<![endif]>Island Johnnycake meal. 
But now the historic mill is grinding up a different blend of meal, several in fact, as a gourmet coffee shop.
Gray's Daily Grind has taken up residence in the 1800's cedar-shingled mill building next to Adamsville Pond.
<![if !vml]>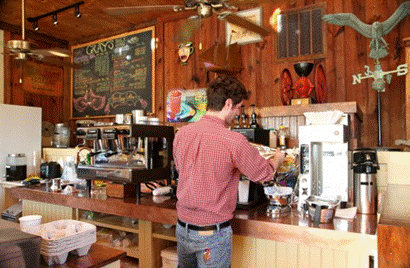 <![endif]>
Above: Tim Crough grinds a Gray's Daily Grind special in the one-time corn-shelling room at Gray's Grist Mill.
Mary Miska, a former graphics artist for the providence Journal, is in partnership with Gray's Grist Mill owner Ralph Guild.
The new specialty coffee house will offer espresso, specialty coffees and teas, frappuccinos, fresh fruit smoothies and pastries. Gray's daily Grind coffee is roasted at nearby Coastal Roasters in Tiverton. http://www.coastalroasters.com/.
It's 18th century Starbucks, with a millpond, herring run, "free range coffee," and . . . well you get the idea.
"Many of our pastries are made with Johnnycake Meal including cornbread, banana breads and granola bars," Miska said.
The shop, or "shoppe" which more accurately describes the old-time ambience, has grain bag window treatments, an antique coffee grinder and percolators, and wooden barrels and crafty plaques.
The gift shop will also be carrying a line of coffee related items for your home brewing and coffee and tea enjoyment.
If you look closely you'll even find a few kernels of corn in the corners and cracks of the old wooden floor.
For more information call or click 774.264.9669 or visit their website.
Making it in Westport.  - February 19, 2010
<![if !vml]>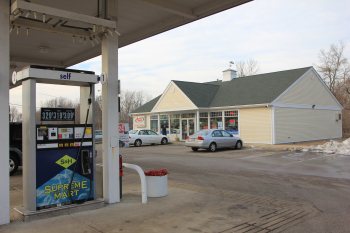 <![endif]>
Supreme Gas, located on the northeast corner of Sanford Road and State Road (Route 6), has been under the new ownership of Andy Patel for the past five weeks.
"We will have a formal grand opening," Patel said, "when the Lottery equipment is finally installed and operational," something he hopes will happen over the next week. "Our self-service gas pump bays, full-service convenience store, and a Honey Dew Donut shop with drive-through is fully operational," Patel said.
Village Bicycle shutters it doors. - Thursday, December 24, 2009
<![if !vml]>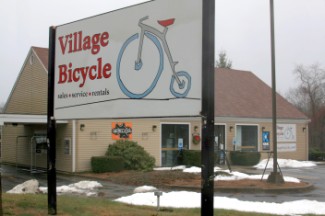 <![endif]>In a devastating loss to Central Village and our entire community, Village Bicycle has decided to cease operations as of Christmas Eve. This community-oriented business had served Westport for many years and gave much of themselves in assisting local charities. Most notable was their sponsorship of the annual Bike Challenge, in concert with Citizens-Union Savings Bank, to raise money for Saint Anne's Hospital Regional Cancer Care Center.
"Thank you for the many years of business," said store owner Jim Lebelle. "Due to the tough economy we have had to go out of business. Our mechanic John will be opening his own repair shop soon so he will contact you if you had a free tune up and make sure you know where his store is for future service. We wish you happy and safe holidays! Thank you for many great years of business!"
The high-end bicycle shop was known for promoting comprehensive nutritional programs and for providing dietary guidance for its fitness and athletic curriculums, services not usually found at an independent retailer. Store owner Jim Lebelle and his professional staff will be missed. 
Lebelle is perhaps best known for his involvement in the 2009 RAAM bicycle marathon, a competition against hundreds of other cyclists over some 3,000 miles and across 14 states.
On June 20, the Buzzards Bay Coalition member and owner of Westport's Village Bicycle, under the banner Team Save Buzzards Bay, embarked with his team on an epic journey of a lifetime. Jim Lebelle and teammate, Tim Bryant, competed against hundreds of other cyclists over some 3,000 miles and across 14 states - starting in Oceanside, California and ending in Annapolis, Maryland. The Race Across America (RAAM) usually lasts 12 days. If Jim and Tim wanted to win, they would need to finish in nine. The race, considered the most grueling of its kind, is 806 miles or 26 percent longer than the Tour de France and attracts both amateur and professional racers from around the world. The route included climbs of more than 100,000 feet, and without any scheduled breaks the clock ticked until the racers crossed the finish line.
Lebelle kicked off his 3000 mile coast-to-coast marathon on June 20. Team Lebelle finished 5th, arriving in Annapolis on Tuesday, June 27, 2009. They covered 3021 miles in 7 days, 8 hours and 42 minutes!
Read about Jim's planning for his epic RAAM journey across America.
Read about Jim's Odyssey across America.
It has been reported that Lebelle has plans to move to the Carolinas to get involved in a camping enterprise. Our wishes for success go with him and his family. Lebelle has finished one journey; it's time now for another.
Odds and ends plus imagination and talent equal artisan furniture. – November 22, 2009
<![if !vml]>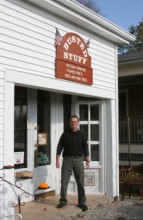 <![endif]>Nate Edgcomb has a formula for success.
He takes one old coffee table top, add the step legs from a horse carriage, and attach these to an antique blanket chest. What does he get - a whimsical new piece of furniture unlike any of its pieces. An impressive illustration of 'the sum being greater than the total of its parts.'
"Original, and one-of-a-kind," the proprietor of Westport's newest artisan studio said with a disarming smile.
That's the idea behind Busted Stuff, a new workshop tucked just to the side of Partner's Village Store in Westport.  Read more about Busted Stuff.
Singlez Zone expands local area networking! – Posted Thursday, August 13, 2009
For all you computer geeks out there, this isn't a new local internet connection, but a social network for single professionals from 30 to whatever. Founded by brother/sister combo Martin and Maddy Costa at Martin's home on Old County Road, Single Zone is about "meeting people face-to-face" according to Maddy Costa.
Visit their website at http://site.singlezzone.com/ where you can learn more about the social networking club and register for upcoming events.
<![if !vml]>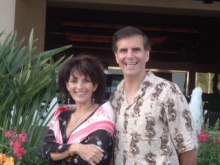 <![endif]>Martin and Maddie Costa (shown left) began this endeavor in response to a need for unique single activities in the Southcoast area. They like to think out-of-the-box and create fun activities for trendy professionals. Some of their gatherings offer Relation Stations where various holistic practitioners will "provide body, mind and spirit services, including Reiki massage, tarot card readings, and relaxation techniques; or simply to meet over a cup of coffee and discuss the day's events," according to Martin Costa.
Visit EverythingWestport.com's event calendar to stay abreast of future social gatherings, meetings and events from this new business venture.
Fred & Ann's may get a new life as Goodfellows! - Saturday, June 27, 2009
It's easy to pass the little run-down red building with the cupola on top off Main Road and feel a little nostalgic. 
But all that might change as Fred & Ann's may get a new life. This august former restaurant was very popular with countless older patrons from Providence, Newport, Fall River, and Westport over the years, and many were saddened when the Quicks retired and sold the property in 2004. "We offered a great family-style menu at affordable prices," Jerry Quick said.
<![if !vml]>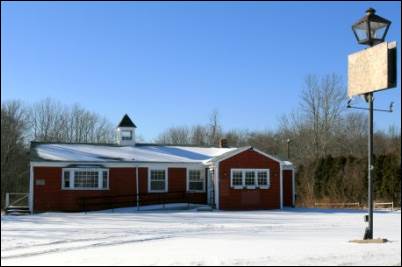 <![endif]>
The Lafrance Hospitality Company acquired the 16.6-acre Main Road property when the proposed timeshare project Copperhorse Inn fell apart. They are now considering an Italian-style family-oriented, 75-seat, brick oven pizzeria named Goodfellows.
Sean Lafrance said recently that they hope to obtain a full liquor license, and a request has been made to the Board of Selectmen. 
But the project is in the holding stage as the Lafrance family is considering all the factors, not the least of which is the economy. "We want to be sure it's cost-effective to renovate the building and obtain a liquor license," Sean Lafrance said. "The electrical system, air-conditioning, hot water and septic systems all need to be replaced."
According to town records, Fred and Ann Robinson bought the land in 1948 and built the restaurant in 1957, eventually selling it to the Quick's in 1974. John and Jerry Quick of Little Compton ran the Fred and Ann's that today's Westporter fondly remembers as the comfortable family-style restaurant they would visit every Sunday with their family. The property was sold in 2004, when it was acquired by Mr. Prentiss and the Lafrance family.
Deborah Seavor (Tripp) of Pine Hill Road was just 17 when she started working at Fred & Ann's in 1978. "It was a great job," Seavor recalled. "We worked hard and fast for our money. Jerry (Quick) was everywhere; doing the books, cooking, cleaning. In the summertime we made a good living from the summer residents and tourists. My two sisters worked there too!"
Storage facility is also "on-hold".
The Lafrances are looking to build 100 self-storage units in two 6,700 square foot buildings at the back (west) of the property, and then freshen up and reopen the old Fred & Ann's Restaurant at a later time. Sean Lafrance noted that "construction of a self-storage complex will most likely begin first if current conditions improve."
The company has received approval from the Planning Board for the storage facility, and the Westport Economic Development Task Force has looked favorably on the project as it won't be making a big impact on the neighborhood.
"The plan to build the storage facilities is also on-hold for now," Lafrance said.